Senior Account Executive UK – SaaS Workspace
Field

Sales

Salary

€ 150.000 OTE

Location

Amsterdam

Employment

Permanent

Headhunter

Nobel Recruitment
The organisation
B-Players need not apply
Our business is scaling up quickly, and we're in the middle of a really exciting change. We're ready to take over the UK and Irish market with an already well-developed Enterprise product. We're looking for an Account Executive and that means only the best players are good enough to ride this tipping point with us, working with their existing networks to create huge success. We want to work only with people who are eager to make a change and see their impact across the business.
The position
A-Players only
In any game, the A-Players are the stars. The Michael Jordans, the Serena Williams, the Usain Bolt's – they're all people that go hard, get results, and win. We're looking for A-Players to join us and be part of our game. Individuals who build networks of people around them. The ones who thrive on making connections. The ones who are hungry for success and willing to work hard to get it. People who are hunters in sales and know how to close a deal. A-Players who have previously won big and know how to do it again.
Candidate profile
This person will be a native, or near native, English speaker, having previously worked in the UK, and beneficial if they've sold across Europe. They'll have a proven trackrecord in selling SaaS to enterprise with a network of G-Suite clients. This might be in their current role or previous ones, but they'll be knowin the Google ecosystem. Our founders have led a G-Suite consultancy firm for over eight years and so have masses of knowledge and information to share. The A-Player needed for this role will similarly have lots of working experience within the digital communication industry. They'll be well versed in the enterprise sales cycle (9-12 months) and hold a Bachelor's degree, and even better, a Masters. Most importantly, they'll be hungry and ambitious, ready to make an impact and become a key player in our business.
The offer
We're fast moving and we're agile, scaling up quickly we have a bright future that you can be an instrumental part of. Our HQ is in the heart of Amsterdam and with an outstanding work environment we've created a brilliant culture. Our commission scheme is uncapped, our salaries strong and we offer equity as an opportunity. Our software is groundbreaking, we have a userbase of over 220,000 and have been nominated as one of the most promising startups by the European Union. When you win with us, you win big and that means big BIG paychecks to satisfy those millionaire dreams. We of course do all the great things like free Friday lunches, healthcare, mobiles, but, most importantly of all, our churn is non-existent. Our people are here to stay because they love it, and that's the best thing about us.
Interested?
We like to keep things simple, so send your CV to Daan by using the form below and we'll be in touch with you. We look forward to talking to you.
This search procedure has been closed (26-03-2019).
About this headhunter - Nobel Recruitment
At Nobel our job is to help you find that perfect, next step in your career. We have experience on the inside and as the only Dutch agency focussing on SaaS, we're happy to connect you with one of the many befriended companies in our network.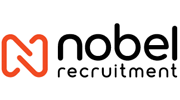 More jobs from Nobel Recruitment on Lintberg
Nobel Recruitment has been active on Lintberg since 2017.