Senior Vice President Operations
Field

Management

Salary

Salary undisclosed

Location

Amsterdam

Employment

Permanent

Headhunter

Van De Groep & Olsthoorn for Avantium
The organisation

Avantium is a leading technology development company and a forerunner in renewable chemistry. The company develops technologies that enable the production of sustainable products from bio-based raw materials. They work in partnership with likeminded companies and academic institutions around the globe. Avantium also helps clients in catalytic research by providing proprietary systems and services to improve efficiencies and deliver increased sustainability, growth and profits. Avantium has over 160 highly skilled creative employees, representing 20 nationalities.
The Renewable Chemistries (RNC) business unit is a fast growing group consisting of highly educated individuals in multiple disciplines. RNC focusses on developing a portfolio of technologies based on bio-based feedstocks, CO2 and waste valorization so that their partners can transition to a bioeconomy at an industrial scale. Their expertise in catalysis gives them the basis for coming up with unique solutions in areas such as biomass conversion, electrochemistry and green chemistry. Avantium has the ambition to increasingly rely on above-the-ground resources and accelerate the growth of the bioeconomy.
For the business unit RNC we are looking for a Senior Vice President Operations.
The position
At this moment, RNC is building a pilot plant in Delfzijl with a grand opening in mid-July 2018. There, forestry and agricultural residues can be converted to glucose, mixed sugars and energy-dense lignin. A second pilot plant is expected to be built in 2019 for the production of bio monoethylene glycol. The goal is to have a demonstration of their electrochemistry platform in the years following these technology launches. These plants will demonstrate the scale-up of truly novel technologies 'proving that something that has never been done, can be done'. These technologies can then be licensed worldwide to interested parties under various business models. The pilot plants are enabled by two innovation laboratories where novel technologies are created. In total, the operations group currently employs about 80 people.
The operations team has grown quickly creating the need for experienced leadership in a new Senior Vice President Operations position. You will lead all operations, via Pilot Plant Managers and a Vice President of Operations for our laboratories, reporting to the Chief Operating Officer.
You are in charge of scaling up the RNC technologies enabling their tech transfer from the lab to pilot and forward to partners in commercial operations. This position is a driver of the company's growth plan.
Candidate profile
You have at least a MSc. In e.g Chemistry, biotechnology or food technology. You have more than 10 years experience in operations, and experience in leading personnel in remote locations. You are familiar with scaling up processes and know how to address the many issues and risks that are part of this. You know how to build cross-functional teams and gain engagement. You are customer orientated, team-focused and a natural leader experienced in both business and operating environments. English is a must, Dutch is a pre.
Interested?
If you are interested in this position please click the link below. For more information please contact the consultant in charge Bauke Wolters or Karin Bakker, +31 346 – 87 00 20.
This search procedure has been closed (26-10-2018).
About this headhunter - Van de Groep & Olsthoorn
Van de Groep & Olsthoorn zoekt én vindt al sinds 1979 de juiste directeuren, managers en C-level-kandidaten voor posities in de sectoren techniek en industrie. Zowel voor vaste als interim aanstellingen, nationaal en internationaal.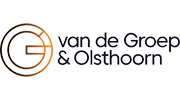 More jobs from Van de Groep & Olsthoorn on Lintberg
Van de Groep & Olsthoorn has been active on Lintberg since 2012.