Field

Finance

Salary

Salary undisclosed

Location

Amsterdam

Employment

Permanent

Headhunter

Blooming Hill for LeasePlan
The organization
LeasePlan is one of the world's leading Car-as-a-Service companies, with 1.7 million vehicles under management in over 30 countries. LeasePlan purchases, funds and manages vehicles for its customers, providing a complete end-to-end service. They do this through two core businesses.
Car-as-a-Service
They are the global leader in the €68 billion Car-as-a-Service market, based on the number of vehicles in their fleet. They purchase, fund and manage vehicles for their customers, providing a complete end-to-end service. This is a resilient and cash-generative business that provides long-term subscription-based mobility solutions with integrated services.
CarNext.com
CarNext.com is a disruptive B2C and B2B digital marketplace that enables customers to buy, lease and subscribe to high-quality used cars in Europe. CarNext.com will be supported by an European network of up to 50 wholly owned retail and experience stores, where customers can view their high-quality cars, receive necessary consultation services and make a final purchase decision. CarNext.com is in pole position to lead the €65 billion Car-as-a-Service market for 3-4 year-old high-quality cars. This builds on LeasePlan's position as the largest reseller of 3-4 year-old cars in Europe.
The position
For their headquarters in Amsterdam we are looking for a Senior Manager IFRS. Reporting to the Senior Vice President Corporate Control, FP&A, Tax.

Tasks & responsibilities
Specialist in IFRS topics and drive compliance and harmonization across the Group. Prepare position papers as needed on specific accounting topics.
Monitor changes in IFRS and other relevant accounting standards (e.g. Dutch GAAP, regulatory requirements), assessing the impact for LP and taking the lead or participating in implementing these changes on a timely basis (e.g. IFRS 16, 17).
Preparation of the LP interim and annual consolidated financial statements, including orchestration of the process and timetable
Maintaining accounting manuals and guidelines, supporting consolidation and reporting teams on accounting matters. Organize training for reporting entities as needed.
Defining key financial accounting & reporting controls to ensure global adherence to accounting policies
Stakeholder management with KPMG, Investor Relations, LP Reporting entities, LP Corporate departments
Lead IFRS department of 2-3 accounting professionals.
Member of Finance leadership team and contribute to finance and business projects as needed.
Candidate profile
Master degree in Finance / Business administration
Certified public accountant
Work with complex matters in a changing environment
Minimum of 10-15 years relevant work experience in a financial role (accounting, controlling and/or auditing) – extensive big-4 experience is a must
Work experience with relevant IFRS for the financial / leasing industry
English (fluent, verbally and written)
The job holder is capable to enforce accounting discipline onto reporting entities with tact and diplomacy and to discuss and agree accounting topics with internal and external stakeholders
The job holder is capable of executive stakeholder management both internally as well as externally (with auditor)
Excellent communication
Constructive/professional critical
Strong and confident
Pro-active
Ability to work under pressure
Interested?
You can apply to this position by using the form below. For more information please contact Barbara Kuil or Sofie Man at +31 (0)35 201 84 00.
This search procedure has been closed (01-06-2018).
About this headhunter - Blooming Hill
Blooming Hill is een executive search en interim management bureau gespecialiseerd in het bemiddelen van financiële professionals op management- en directieniveau. Onze specifieke "finance" focus in combinatie met onze betrokkenheid, inhoudelijke kennis en ons netwerk zorgt voor een optimale match tussen kandidaat en werkgever.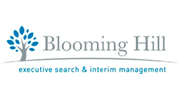 More jobs from Blooming Hill on Lintberg
Blooming Hill has been active on Lintberg since 2011.