Field

Sales

Salary

Salary undisclosed

Location

Houten

Employment

Permanent

Headhunter

Nobel Recruitment for CloudSuite
The organisation
We're called CloudSuite. We're a comprehensive full suite commerce platform and over the years we've grown from B2B, into a platform that has become so flexible and broad we support all models such as B2C and B2B2C. Our product is developed in-house and implemented by a cross-functional professional services team. We have a beautiful office and our colleagues are even better. We're an ambitious company and we're ready to welcome you to the team.
The position
"Big jobs need big ambitions"
We're not an ordinary company so we don't create ordinary jobs. Instead, our jobs are tickets to other places and the roadmap to bigger dreams.
We're looking for a Sales Director who has huge plans and is hungry to make their mark on the world. Someone who is hands-on and always involved in their teams. A leader who inspires with their words and actions. A person unafraid to have the difficult conversations, make the hard choices and take the lead. We're looking for someone who is ready to grow.
Tasks & responsibilities
"Big ambitions need big responsibilities"
We trust you, and so we want you to be involved, make choices and call the shots. This means, you'll manage the sales team, nurturing and developing them to high performance success. You will be instrumental in strategy and planning, meeting with the board, the partners and the sales team to do so. International expansion will also be one of your tasks, as well as prospect meetings, market research and consistently scaling up our growth in the coming 3 years. We meant it when we said we dream big.
Candidate profile
"Big responsibilities need big experience"
You will of course learn new things on the job and grow as the business grows, however, there's a few things it would be great if you already had. For example, a trackrecord in SaaS software.
Previous track record in successful sales strategy, experience in scaleup, know exactly how to close a deal in the mid-market segment and understand how to develop a partner network.
You should have international scope already and you're an over-achiever, so someone who hits targets and beyond. You'll need to speak English and Dutch and preferably be a German speaker.
Interested?
We like to keep things simple, so send your CV by using the form below and we'll be in touch with you. We look forward to talking to you about your big dreams and big ambitions.
This search procedure has been closed (17-09-2018).
About this headhunter - Nobel Recruitment
At Nobel our job is to help you find that perfect, next step in your career. We have experience on the inside and as the only Dutch agency focussing on SaaS, we're happy to connect you with one of the many befriended companies in our network.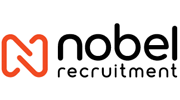 More jobs from Nobel Recruitment on Lintberg
Nobel Recruitment has been active on Lintberg since 2017.