This search procedure has been closed (10-03-2023).
Field

Sales

Salary

Salary undisclosed

Location

Oostrum

Employment

Permanent

Headhunter

Top of Minds for Cordstrap
The organisation
Cordstrap is the global market leader in protection engineering. They mitigate the risks of transporting goods, and protect the products, people and places they have a presence. They will collaborate with customers to offer tailored advice and solutions for a variety of global shipping needs. Their product range includes strapping, lashing, dunnage bags, moisture control and cargo monitoring service. They combine these with application expertise and local regulatory knowledge to offer customized load security solutions.
From large project cargo and hazardous chemicals to fragile materials, Cordstrap makes sure that all cargo is safely moved.And they are implementing an extensive commercial redesign to further align internal efforts with customer needs across three application segments: Container Protection (CP), Heavy-Duty Securing (HDS), and Bundling and Palletizing (BP).
Cordstrap has 500 employees, operates in twenty-two countries and serves customers in more than fifty countries. They have a global presence of sales offices, factories, and distribution partners.
" Our organization has an open, flat, and execution-driven culture – we are basically a multinational without the corporate politics and bureaucracy." – Ragna van de Burgt, Head of Organizational Development of Cordstrap
The position
Cordstrap safely transports goods with solutions that protect the goods, people handling them, and industrial environments they pass through. The Sales Director for Small Business and Midmarket Clients will lead and develop the customer journey experience for 8,000+ clients, and the European team of account managers.
Tasks & responsibilities
To improve their customers' experience and align the organization, Cordstrap created the Sales Director role to focus on the 8,000+ small business and midmarket customers across Europe. This role will lead a tailored customer journey development and streamline the customer experience. To achieve this, the Sales Director will collaborate with sales, marketing, IT, operations, and back-office teams, while setting up standardization, digitization, and e-commerce initiatives.
They will leverage ten account managers across Europe that work with Cordstrap's small business and midmarket customers. To be successful, the Sales Director will lead, engage, empower, and support their team with the right tools and methods. That's why they must have excellent stakeholder management skills and communicate with impact.
The Sales Director reports to the Vice-President of Sales EU and collections with regional Sales Directors, who focus on large accounts, and Key Account managers, who focus on European accounts. While creating an engaging culture and a customer-centric sales process to the small business and midmarket customer segment, the Sales Director will align initiatives with the broader strategy and bridge with the wider commercial organization. Working with internal colleagues and stakeholders, this role will realize growth from new and existing customers. As well as being a team player, the Sales Director should have execution power and creative problem-solving skills.
" We are not here for the quick wins. We strive for sustainable, profitable growth by educating our customer segments on the value of our products and solutions." – Brad Tribble, CEO of Cordstrap
This is an excellent opportunity for an industry-savvy B2B sales manager with an execution-oriented mindset to reshape the customer journeys and enhance the sales organization of the world's leading protective engineering company.
Candidate profile*
Master's degree in business or related field
12+ years of international, customer facing experience
B2B sales experience in technical environment, preferably in OEM
Experience in sales and marketing to a large client base
* Research shows that while male candidates feel confident enough to apply when they meet about 60% of the requirements, female candidates only apply when they tick every box. So if this role has your name on it, but you're not sure about the criteria, we still want to hear from you.
Interested?
You can apply to this position by using the link below. This client works with Top of Minds to fill this vacancy.

This search procedure has been closed (10-03-2023).
About this headhunter - Top of Minds
Top of Minds is een Executive Search bureau met een internationaal werkveld. Onze recruitment Consultants hebben allemaal een individuele focus, van FMCG en Retail tot e-Commerce en Digital. De succesfactor van Top of Minds is storytelling: great stories attract great people.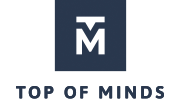 More jobs from Top of Minds on Lintberg
Top of Minds has been active on Lintberg since 2011.