This search procedure has been closed (12-08-2013).
Field

Finance

Salary

Salary undisclosed

Location

Apeldoorn

Employment

Permanent

Headhunter

Blooming Hill
The organisation
BDR Thermea is a world leading manufacturer and distributor of sustainable and smart climate and sanitary hot water solutions and services. The Group operates in more than 70 countries worldwide, employing over 6,400 people. It has annual sales of close to €1.8 billion (2012).
The Group has a top market position in key European countries (Britain, France, Germany, Netherlands, Spain and Italy) and strong positions in the rapidly growing markets of Eastern Europe, Turkey, Russia, North America and China.
The portfolio of products is cleverly designed to provide integrated systems instead of just single products, offering lower energy bills and reduced carbon emissions.
Climate and sanitary hot water solutions:
Integrated solutions – heating, cooling, energy and air
Boilers, solar thermal, biomass, heat pumps, combined heat and power
Decentralized energy generation and storage
Controls
Additional accessories and services
BDR Thermea owns and sells some of the leading brands in the European market for heating products. These include De Dietrich, Baxi, Remeha, Brötje, Chappée and Baymak.
BDR Thermea invest in their employees and maintain open and sustainable relationships with external stakeholders. Their head office is located in Apeldoorn.
The position
BDR Thermea started a project to implement an ERP system in the UK, Italy and Germany. We are looking for a Project Manager Finance to realize this project. You will work together on this project with representatives of the countries and of course with the help of external consultants/advisors.
You will be responsible in this project for the Finance processes, securing internal control measures and management information. In addition, you are expected to actively contribute ideas to design, built and implement the processes of sales, after sales, production and purchasing.
Duration of the project is estimated on three to four years. The aim is to standardize and harmonize the processes to increase the quality and efficiency of work processes within BDR Thermea.
In addition, you may be involved in other projects. Primary focus will initially be on this project.
Tasks & Responsibilities
The project concerns the Group and the countries as described. Each country brings three key users in each process. The Director Corporate Finance & Control is the process owner Finance of this project. Together with the other process owners he is responsible for the quality of the new processes. Furthermore, there will be close cooperation in the project with external consultants (Ernst & Young / Infor).
The project involves design, construction and implementation. The first phase of the project takes place mainly in the Netherlands. When the implementation phase starts, the Project Manager Finance frequently travels to the other countries.
Other tasks include:
Mapping the business processes
Responsible for the blueprint (together with external consultants)
Responsible for the construction and ultimately implementation of the ERP system (Movex/M3) in the Netherlands (prototype) and then abroad (first Italy, after the UK and Germany)
Optimize the AO / IC (accounting and internal control) (purchase-to-pay, warranty process, cost pricing, billing, organize ledger, after-sales process)
Active contribution to maintain and develop AO / IC and management information
Preparing and conducting training and workshops
Frequent contact with these countries and support the countries during and after the implementation
Realizing other projects concerning improvement of processes
Candidate profile
Approximately 10, max 15 years of relevant experience as a financial in a production environment (knowledge of cost pricing, logistics, etc)
Postgraduate education
Experience within international setting
Experience with complex and major ERP implementations
Linking pin with the business
Fluent in English, control of other languages is a pre
Solid sparring partner of Director Group F & C, management
Personal impact is leading in this process of change
Hands-on, driven and a down to earth mentality is essential
Persuasive
Able to sketch conceptual framework
Able to train the employees in different countries and develop training material
Knowledge of ERP systems, preferably SAP, Movex M3
Willing to travel
Salary indication
The salary for this position is € 100.000.
Interested?
You can apply to this position by using the form below. For more information about the position, please contact Sofie Man or Barbara Kuil at +31 (0)35 20 18 400.
This search procedure has been closed (12-08-2013).
About this headhunter - Blooming Hill
Blooming Hill is een executive search en interim management bureau gespecialiseerd in het bemiddelen van financiële professionals op management- en directieniveau. Onze specifieke "finance" focus in combinatie met onze betrokkenheid, inhoudelijke kennis en ons netwerk zorgt voor een optimale match tussen kandidaat en werkgever.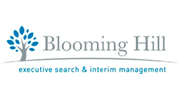 More jobs from Blooming Hill on Lintberg
Blooming Hill has been active on Lintberg since 2011.