This search procedure has been closed (14-10-2020).
Field

Management

Salary

Salary undisclosed

Location

Rotterdam

Employment

Permanent

Headhunter

Van de Groep & Olsthoorn for Polyplastic
The organisation
Our client Polyplastic was founded in 1952 as a trading company in acrylic sheets, which are a lightweight alternative for glass. Nowadays the Polyplastic Group offers an exceptional combination of state-of-the-art cast acrylic sheet fabrication and modern and unique equipment for the design, manufacture and marketing of innovative transparent glazing solutions. They have since become the European market leader. The focus of the organisation is on achieving growth by broadening the product portfolio and developing new Product Market Combinations.
New views on designs, new products and technologies and new markets have made Polyplastic a solid brand with an outstanding international reputation. They provide a wide range of applications, from windows for leisure vehicles to products for cooling solutions and alternative energy. They have expert experience in diverse techniques, varying from the production of cast acrylic, contactless shaping, 3D gluing and milling, to bending aluminium frames and the assembly of complete systems. Their products are primarily developed in close cooperation with their clients. Innovation, flexibility, creativity and upholding the confidence of customers are part of the company's DNA. Most of their customers rely exclusively on Polyplastic for these kinds of products.
The position
The head office, with over 300 employees, is located in Rotterdam. The main sales market is Europe. Recently a US-based company listed on the stock exchange, Lippert Components Inc., purchased the Polyplastic Group shares from the CEO/owner. LCI wants the Polyplastic Group to continue growing and wants to conserve their DNA. Local management are to retain a high level of independency. In order to safeguard operational leadership on a board level there is a need for an Operations Director.
Tasks & responsibilities
As Operations Director you are responsible for the entire operational side of the production process. This includes the areas of technology, purchasing & logistics and production (150 FTEs in total). The Technology Manager, Purchase & Logistics Manager and Production Manager report directly to you.
You uphold continuous, consistent quality and delivery together with this team of specialists, now and in the future. You make optimal use of machines, people and production methods. You determine and monitor production planning, set performance standards, provide dashboards, analyse and resolve any eventual bottleneck. The main objectives are to reduce breakdowns, improve efficiency, stabilise processes and maintain quality assurance. Safe working conditions and compliance of set safety standards are self-evident and have your unceasing attention.
You are expected to further shape the continual optimisation of the production process and prepare it for further expansion. The operational organisation is already highly automated, yet this still needs further development. In addition, great importance is attached to innovation within Polyplastic. This revolves around innovation of production processes and techniques as well as product innovation. You involve your teams with innovations and encourage employees to come up with innovative solutions.
Motivating and connecting people in the organisation is a key challenge. By applying a people-oriented management style, the work climate should be enhanced so that employees want and dare to step up and take responsibility. You create a team spirit in order to improve processes together and to realise and ensure that any required changes are made. You need to be persistent and consistent and, where necessary, oversee things and be in direct control. You ensure that any coordination and communication between other departments within Polyplastic work well and you set a good example in this respect.
You report directly to the CEO, and your immediate colleagues are the Sales Director and the Product Development Director.
Candidate profile
We are looking for an experienced Operations Director with a University degree in Engineering, Industrial Management or another operations/business-related study. An MBA is an extra advantage. You have wide-ranging experience with operational end responsibility within a complex manufacturing environment. You are constantly focused on optimising logistics and production processes plus you have extensive proficiency in Lean tools, such as six sigma, TPM, SMED, 5S, Kaizen. In addition, you show a strong interest in and an affinity with technological innovation. You have preferably gained these experiences in a batch production environment, experience with plastic processing is also seen as an advantage.
You couple a conceptual-analytical mindset with a firm result-driven, pragmatic, down to earth approach. You have a winning mentality and you do whatever it takes to achieve goals. You are accessible, hands-on and cooperative.
You are visibly present on the shop floor, you convey a relaxed and natural sense of leadership, and you really know how to motivate and inspire people. You are strong when it comes to coaching and indirect leadership and you help your direct team of managers in managing their staff effectively and developing themselves. You lead your team members by example, by being a good listener and showing drive, enthusiasm and curiosity.
You have an excellent command of Dutch and English; spoken German is an advantage.
The offer
Our client offers you a challenging position in a fast-growing, internationally operating company with a "hands-on" mentality. A dynamic environment wherein all interesting topics that concern the supply chain in a production environment are subject to review. You are given the space to develop your vision and leave your mark, with plenty of room for you to take the initiative.
Interested?
If you are interested in this position, please apply using the application link below. If you have any questions regarding this position, please contact the Consultant in charge of the position: Anco de Graaf, +31 346 – 87 00 20.
This search procedure has been closed (14-10-2020).
About this headhunter - Van de Groep & Olsthoorn
Van de Groep & Olsthoorn zoekt én vindt al sinds 1979 de juiste directeuren, managers en C-level-kandidaten voor posities in de sectoren techniek en industrie. Zowel voor vaste als interim aanstellingen, nationaal en internationaal.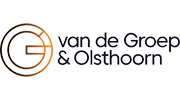 More jobs from Van de Groep & Olsthoorn on Lintberg
Van de Groep & Olsthoorn has been active on Lintberg since 2012.