This search procedure has been closed (04-05-2020).
Field

Management

Salary

Salary undisclosed

Location

Amsterdam

Employment

Permanent

Headhunter

Deen for Mennens
The organisation
Our client, Mennens, is part of Axel Johnson International, a privately owned Swedish industrial group of more than 110 companies in 28 countries and 4,100 employees, with combined annual sales of €960 million. Axel Johnson International drives business development and growth through a long-term approach to ownership in strategic niche markets, primarily technical components and solutions for industrial processes.
Axel Johnson International is organized in five business groups: Fluid Handling Solutions, Industrial Solutions, Lifting Solutions, Power Transmission Solutions and Transport Solutions. The Mennens Group, part of the business group Lifting Solutions, has 6 independent locations with around 440 employees in the Benelux. They all take the same approach with clearly defined, uniform processes. At the same time, they lay the emphasis on a local, recognisable service.
The position
Within this challenging, autonomous position you are full P&L responsible and the driver for further growth and professionalization of this Amsterdam organization.
With a strong team of 80 employees divided over departments like Service, Projects and Sales, you are head of the management team and reporting directly to the Regional Director Central Europe from the Lifting Solutions Group.
Because of your commercial background you have the ambition to bring the company to a higher level of growth and profitability.
Next to this you have a keen eye for quality and operational performance.
You make sure the organization is stable and well-structured and in order to arrange this you have to look critical towards internal cooperation between different business activities.
Taking care of synergy in the group, professionalization of teams and working processes are also points of your interest.
With clear KPI's, solid consultation structures and the right systems you bring the whole company to a higher standard.
Candidate profile
At least a diploma on bachelor level, for example HEAO/HTS, if possible completed with a Master/MBA.
Evident management experience in a technical environment where service plays a key role in the process.
Next to commercial roots you have technical affinity, you are good with numbers and strong interest in marketing.
You understand the value of customer journey mapping and digital marketing.
People manager with good communication skills in the Dutch and English language both oral and written.
Personality traits
You have a practical, energetic personality capable of inspiring people internal as well as external. A real team player, connecting people and capable on making the move on. You develop people in your teams, take initiatives and focussed on synergy and cooperation. A winner with a track record in letting companies grow. A process thinker, analytical and proven to expand operational excellence in your organization.
The offer
A nice responsible position with a lot of responsibility within an international company. Good renumeration package with excellent conditions like a bonus and company car. How you give implementation to the role is up to you as well as your own development.
Interested?
You can apply to this position by using the link below.
This search procedure has been closed (04-05-2020).
About this headhunter - Deen
Deen, opgericht in 1937, heeft ruime ervaring en expertise op het gebied van recruitment, selectie en ontwikkeling van professionals, managers & directieleden en management development vraagstukken in het hoger segment van de markt.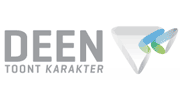 More jobs from Deen on Lintberg
Deen has been active on Lintberg since 2012.