Managing Director - Service/Maintenance (Oil & Gas Industry)
This search procedure has been closed (18-03-2013).
Field

Management

Salary

Salary undisclosed

Location

Saudi Arabia

Employment

Permanent

Headhunter

Van De Groep & Olsthoorn
The organisation
Our client Anabaeeb, Arabian Pipeline & Services Co Ltd., is located in Jubail (Saudi Arabia). Anabeeb, established in 1983, has become one of the most experienced single-source maintenance and support specialists for leading industrials as refineries, (petro-)chemical and steel industries, power/desalination plants.
Anabeeb counts up to 2600 employees, mainly from the Far East, and can be characterized as a steady growing company with a strong competitive position in its line of business. Anabeeb is owned by Al-Osais (Saudi company) and the Dutch concern Mourik (with its main office based in Groot-Ammers).
For this client we are currently looking for a
Managing Director - Service/Maintenance (Oil & Gas Industry)
The position
The Managing Director will be full profit and loss responsible for all activities in the specified regions and directly report to the Group Managing Director who is also located at the office in Al Jubail. The Managing Director will directly supervise up to ten managers responsible for Operations, Maintenance, Quality, HSE, ICT, Procurement, Finance, HR, Contracts and Estimation, Business Development and Administration.
The Managing Director will be responsible for all aspects of leading and running a company accordingly on a broad scale of aspects, from involvement in generating leads to operational stages.
Responsibilities
Direct responsibility for supervising and monitoring of the Managers mentioned above, as well as the company performance;
Make sure the growth target formulated by the board will be reached;
Carry out contract negotiations and monitoring follow up;
Monitor all necessary decisions, which lead to project performance conform planning, safety and quality standards, are taken in a correct manner (effective against minimal costs);
Verify, judge and review if necessary: job formulations, contract requirements, budget, staff, equipment & resources and project planning;
Participate in project evaluation meetings.
Candidate profile
We are looking for a "hands-on" General Manager (Bachelor and/or University degree) with work experience preferred in the oil and gas industries or related sectors. Familiar with "shut down and turn around" activities related to plant maintenance projects seen from a contractors point of view and interest.
Focus on contact with clients, contracts management and supervise timely project delivery within budget where safety and quality should meet the required levels.
Other important competences and skills: strong character, high stress level, diplomatic, commercial and willing to work in a multicultural environment and multinational staff. Fluent English speaker who is willing to live and work in the Middle East.
Working conditions
Primary and secondary working conditions are market conform. Housing will be arranged by the company. All other conditions will be eventually explained in a personal interview.
Interested?
You can apply to this position by using the form below, preferably including a resume and a short motivation including your current situation and salary demand.
Let op. Dit is een herplaatsing ivm een verlengde procedure. Indien u al heeft gereageerd op deze functie wordt u verzocht dit niet nogmaals te doen.
This search procedure has been closed (18-03-2013).
About this headhunter - Van de Groep & Olsthoorn
Van de Groep & Olsthoorn zoekt én vindt al sinds 1979 de juiste directeuren, managers en C-level-kandidaten voor posities in de sectoren techniek en industrie. Zowel voor vaste als interim aanstellingen, nationaal en internationaal.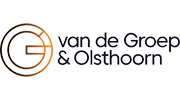 More jobs from Van de Groep & Olsthoorn on Lintberg
Van de Groep & Olsthoorn has been active on Lintberg since 2012.