Manager Production (member MT)
This search procedure has been closed (28-12-2022).
Field

Management

Salary

Salary undisclosed

Location

Breda

Employment

Permanent

Headhunter

Boyden for Roto AG / Deventer Group
The organization
Roto AG is a medium-sized family company based in Echterdingen, founded in 1935 by Wilhelm and Elfriede O. Frank in Stuttgart and with around 5000 employees it generates sales of €668mln in 2021.
In 2019, the company was realigned via a group structure through the formation of a holding company (Roto Frank Holding AG) and three independent companies that are fully responsible for results (Roto Frank Fenster- und Türtechnologie GmbH, Roto Frank Dachsystem-Technologie GmbH, Roto Frank Professional Service GmbH).
On January 1, 2016, Roto Frank AG (Leinfelden-Echterdingen) took over the Deventer Group (200 employees), an international specialist for TPE sealing profiles for windows, doors, gates, frames and glazing. The strategic acquisition is intended to expand the "overall door technology competence".
Deventer Group (hereafter: Deventer) has its headquarters in Berlin and is internationally represented in Western and Eastern Europe with production and sales locations (Breda, Berlijn, Polen en Moskou). A total of 200 employees are employed. The largest production location is in Breda (around 60 employees).
Deventer is in the process of being transformed from individually oriented national companies to an integrated group structure that generates added value.
For more information: www.deventer-profielen.nl
The position
The Manager Production (m/f/d) is member of the management team and responsible for professionalization, increasing effectiveness and the production in the Netherlands. He or she reports to the Director, Mike Piquer.
Tasks & responsibilities
The main tasks are:
Responsible for managing the 24/7 production process;
Wants to bring Deventer to the 'next level' in terms of production and processes;
Capable of long-term implementation plans in addition to daily production;
Creates an inclusive continuous improvement focus;
Is able to keep an overview of the production process at all times;
Is jointly responsible for maintaining a good personnel policy, in which talent development, personal drive and a good working atmosphere are important.
Candidate profile
Education
Completed technical studies or comparable training (including Lean). Mechanical engineering technician, (plastics technician), bachelor's degree in mechanical engineering or similar. Fluent English. German would be desirable.
Professional experience and knowledge
Standing "hands-on", personality who is familiar with successfully managing 24/7 production processes in an international and industrial environment. With 10-15 years of professional experience and in-depth knowledge of (extrusion) technology and series production.
Successful with Lean-management;
Familiar with change management;
Affinity for working in family businesses;
Process and production knowledge in the topics:

Lean Management;
Industrialization;
Make or buy;

Solid management skills;
Expertise in the areas:

Business Administration;
Design and equipment of manufacturing and production processes;
Digitization / Industry 4.0.
Other personality traits
Structured way of working, very good organizational skills;
Excellent analytical and conceptual skills;
Good presentation and communication skills;
Team-player;
Result-oriented and consistent;
People manager;
Confidence in dealing with change: establishment of new structures, commitment and further development of employees according to their skills and strategic guidelines, involving everyone in the change process (change management);
Willingness to make decisions;
Cost orientation;
Self-motivation;
Internationality / intercultural affinity;
Ability to work in a team and team player;
Safe handling of stakeholders and service providers;
Loyal, honest, reliable, straightforward, must go to the company and suit his employees;
Ability to integrate into medium-sized structures with international Incorporate cut and short decision-making processes.
The offer
The allure of the position
The position is characterized by a company in transition that is actively upgrading its processes and technologies. In the position of Manager Production, you have the opportunity to actively and creatively work on this exciting change.
Information
You can apply to this position by using the form below.

Procedure
Interview with Boyden;
With mutual agreement presentation to the client;
Interviews with the client in the week of September 5th;
Complete confidentiality.
This search procedure has been closed (28-12-2022).
About this headhunter - Boyden
Boyden is recognized as one of world's premiere leadership solutions and talent advisory firms. We work with globally-oriented, growth, and emerging organisations providing executive search, interim management, and leadership consulting services, committed to collaborating with clients to discover the right leadership solutions that enable them to meet their business objectives. The Right Leadership. Worldwise.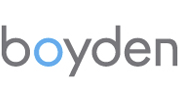 More jobs from Boyden on Lintberg
Boyden has been active on Lintberg since 2017.