Global Commercial Director
Field

Sales

Salary

Salary undisclosed

Location

Capelle aan den IJssel

Employment

Permanent

Headhunter

Van De Groep & Olsthoorn for Rolldock Shipping
The organisation
Our client, RollDock, is globally active and, together with Roll-Lift, makes up Roll Group. As an offshore contractor, RollDock specialises in heavy-lift shipping and Roll Lift specialises in heavy lifting and special transport. RollDock offers customer-specific solutions (complex heavy cargo transport issues) and serves a diverse client portfolio, including major players in the oil & gas industry.
RollDock currently has seven ships. Five ships, the RollDock Sun, Sea, Sky, Star and Storm, are dock ships operating in Flo-Flo and Ro-Ro, with a lifting capacity of 2x350t. In addition, RollDock has two ice reinforced open wide-deck carriers. the BigRoll Bering and BigRoll Beaufort.
The company is globally active. RollDock employs around 360 workers, including 70 at the main office in Capelle aan den IJssel. The rest work on the ships. The company also has an international network of agents in Europe, Asia, North America, Australia and the Middle East.
RollDock's ambition is clear: continued global growth in the renewables industry (offshore-wind), the oil & gas industry, along with opportunities in sectors such as defence and aviation. In anticipation of this continued global growth, RollDock is currently looking for a for a Global Commercial Director.
The position
The Commercial Director's primary role will be developing and rolling out the sales strategy, as well as maintaining and expanding the network (which is currently made up of eight agents).
Tasks & responsibilities
You will develop strategic and commercial plans and be responsible for generating new business as well as scaling up sales in existing sales channels. You will be the liaison between Roll-Lift and RollDock for integrated projects that can be tackled together. You will also investigate opportunities for collaboration with other companies in the form of (project) alliances, JVs, pool agreements and acquisitions.
You will also be responsible for managing and optimising the sales side of the organisation. The sales operation consists of ten employees in total. Reporting to you will be a contract manager and a commercial manager who, together with their team, are responsible for operational account management. This team is responsible for preparing proposals and quotes, taking into account (technical) content, planning, budget and delivery conditions.
You and your team will organise and maintain the CRM system and maintain an up-to-date overview of active RFQs, tenders, prospects and leads and submit regular reports on them to the CEO.
You will also organise and represent RollDock at a number of leading international exhibitions. You will have a team of two professionals at corporate level within RollGroup for all marketing and communication activities. This position reports directly to the RollDock CEO.
Candidate profile
A commercial director with knowledge and experience in the industry (multiple years of relevant experience in the heavy lift, offshore or maritime transport market is an advantage). You are enterprising, ready to meet this international challenge and prepared to spend half of your time on international travel (visits to new and existing customers, agents, trade shows and companies we might collaborate with, now or in the future, etc.).
In addition:
You have at least a bachelor's degree (HBO) in a technical field (civil or offshore engineering), higher level education is a plus;
You have good negotiating skills;
You are able to quickly assess and respond to market situations, identify opportunities and take immediate action;
Entrepreneurial, self-starter, persuasive, enterprising and creative;
Take responsibility for results, investigate market opportunities and use them;
Strong relationship manager, able to engage with (amongst others) engineering companies, contractors, service and oil and gas companies, inspires confidence in a way that communicates calm and authority, skilled negotiator;
Solid personality, clear opinions, energetic team player and manager but also able to independently chart and follow your own course;
You are able to deal with a range of different personalities/cultures;
Good communication and social skills, humour
You have a thorough oral and written command of the English language.
Terms & conditions
A very challenging, versatile job in a dynamic, innovative, international work environment. RollDock is a company that dares to be a pioneer and takes full advantage of opportunities. A no-nonsense culture, direct, open and collegial. An employer that offers the right candidate an interesting package of primary and secondary benefits and career development opportunities.
Interested?
You can apply to this position by using the link below. The consultant at Van De Groep & Olsthoorn responsible for this position is Bert-Jan de Visser, +31 (0)346 87 00 20.
This search procedure has been closed (20-02-2018).
About this headhunter - Van de Groep & Olsthoorn
Van de Groep & Olsthoorn zoekt én vindt al sinds 1979 de juiste directeuren, managers en C-level-kandidaten voor posities in de sectoren techniek en industrie. Zowel voor vaste als interim aanstellingen, nationaal en internationaal.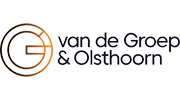 More jobs from Van de Groep & Olsthoorn on Lintberg
Van de Groep & Olsthoorn has been active on Lintberg since 2012.