General Manager Nederland
This search procedure has been closed (11-05-2020).
Field

Management

Salary

Salary undisclosed

Location

Dordrecht

Employment

Permanent

Headhunter

Van de Groep & Olsthoorn for Allied Motion Dordrecht
The organisation
Our client, Allied Motion Dordrecht BV in Dordrecht is part of the Allied Motion group, a global company that designs, manufactures and sells precision and specialty motion control components and systems used in a broad range of industries. Primary target markets are the Vehicle, Industrial, Medical and Aerospace & Defense markets. Products include brush and brushless DC motors, brushless servo and torque motors, coreless DC motors, integrated brushless motor-drives, gear-motors, gearing, modular digital servo drives, motion controllers, incremental and absolute optical encoders, and associated motion control-related products.
Facilities are located in the United States, Canada, Mexico, Europe and Asia. Allied Motion employs over 1,000 employees and is listed at the NASDAQ under the ticker AMOT.
Allied Motion Dordrecht is specialised in brushless outer runner DC-motors for specific applications in the Pump, Medical and Industrial markets. All developed in-house. Allied Motion Dordrecht has about 100 employees.
The position
For Allied Motion Dordrecht we are looking for a General Manager Nederland.
Tasks & responsibilities
The present General Manager will retire at the end of 2020 after a long and successful career at Allied Motion. The new General Manager will follow in his footsteps and is P&L responsible for the activities of this facility. This means from Sales, over R&D/Engineering, Logistics, Production, HR and Finance.
The markets for Dordrecht are B2B, mainly concentrated in Germany, Switzerland, Italy, France and the UK. You will be continuously developing a vision to approach the customers in these fast-changing markets. Since almost all applications are customer specific, with series ranging from very small to very large, you have a clear view about the optimal production methods and the related costs. You ensure correct project and programme management is carried out correctly.
You are present on a daily basis on the shop floor and have a good contact with your colleagues and you are open to ideas and improvements. Allied Motion embraces Lean through AST (Allied Systematic Tools), which is supported by the European Operational Excellence-manager.
You are supported by an experienced team in Engineering, Product management, Sales, Operations and Finance. You are reporting to the Regional CEO located in Germany.
Candidate profile
As a basis, you have a bachelor's or master's degree in e.g. Drive Technology, Electronics, Mechanics or Mechatronics. Additionally, you have an education in Business Administration and/or Sales. You are an experienced Manager in the field of drive technology or similar, with experience in development and commerce. You are familiar with project/programme management with high end customer specific products.
You are a hands-on and solid entrepreneur focussing on a short time-to-market. You are enthusiastic about Lean and know how to implement and support OPEX.
You have a convincing and open personality. You are straight forward and have a coaching management style with a positive drive to get things done.
Your command of Dutch and English is excellent, speaking German is an important benefit. You live within a 45 minute drive of Dordrecht or you are willing to move here.
The offer
A P&L-responsible position at a successful company, part of a multinational company but with own markets and customers. The remuneration package is matching the position.
Interested?
If you are interested in this position, please apply using the application link below. If you have any questions regarding this position, please contact the Consultant in charge of the position: Bauke Wolters, +31 (0)346 87 00 20.
This search procedure has been closed (11-05-2020).
About this headhunter - Van de Groep & Olsthoorn
Van de Groep & Olsthoorn zoekt én vindt al sinds 1979 de juiste directeuren, managers en C-level-kandidaten voor posities in de sectoren techniek en industrie. Zowel voor vaste als interim aanstellingen, nationaal en internationaal.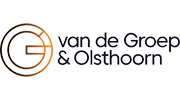 More jobs from Van de Groep & Olsthoorn on Lintberg
Van de Groep & Olsthoorn has been active on Lintberg since 2012.