This search procedure has been closed (20-08-2013).
Field

IT

Salary

Salary undisclosed

Location

Netherlands

Employment

Permanent

Headhunter

227 Media
The organisation
Our client is one of the top 3 professional publishing houses in the Netherlands. As a multi-media publisher of specialist information, she provides its customers with essential trade-specific information on a daily basis in the form of on lines, solutions, services, app's, magazines, books, events and seminars. Publications are used by professionals working for the government, in the legal and tax profession and in other segments of the business sector.
The management board consists of the managing director, the finance director, the commercial director as well as a the current vacant position of the IT & Content director.
The position
The newly to be appointed IT & Content Director, is in charge of IT and content operation. Main areas of responsibility include technology strategy and required ICT infrastructure. The IT & Content Director is responsible the realization of technology driven innovation our client in line with wide IT-initiatives. This includes the responsibility for the integrated project management office as well as all outsourced operational processes.
The IT & Content Director is responsible for translation of the overall strategy into a coherent IT and operational strategy within an increasingly digitally networked society. This would include the conceptual development of new information services and products for on line distribution; based on the presence in the current professional markets, expand the introduction of vertical information services. Equally, the IT & Content Director will develop and implement the technology and IT infrastructure strategy to support these new product and services concepts, and ensure performance, security and compliance of information systems.
Key relationships
Reports to: Managing Director
Member of: Management Board
Direct reports: manager Content & Realisation, Manager IT operations, Manager Application Management, Project Management Office, Technology officer
Other key relationships: IT organization, publishers, marketing & sales managers and other key system owners
External relations: external suppliers (infrastructure, software development), consultants, media organizations, digital network organizations
Tasks & Responsiblities
Contribute to our clients IT-strategy, provide vision of the development of the group, the impact of digital services and financial economic parameters
Develop architecture for publishing and back-office processes, in line with the IT roadmap
Further develop IT and content function (processes, structures, staff) to required ambition level. Integrate all project management activities into one project management office
Manage and deliver key IT & content driven projects and investments
Stays well on top of current market developments in the use of information, services via electronic distribution
Close interaction with the publishing groups to understand customer needs thoroughly and ensure early adoption of the new initiatives, implement innovation process
Identifies and assesses new and emerging information technologies
Initiate and develops partnerships and other forms of cooperation with external parties to ensure the objectives
Candidate profile
Academic degree or similar
Experience in IT strategic planning and execution preferably in an environment with high level of data processing and –transfer
BTB and BTC go to market experience with web based distribution. Multi-channel experience (e.g. order2cash or campaign management)
Has driven culture change and transformation projects in terms of market approach and transition to new service models
Has taken a lead role in ensuring proper technology infrastructure. Is experienced with strategic suppliers management (sourcing, contracting, negotiating, etc)
Used to operate in an international matrix structure: proven to be successful by reaching out, be a catalyst
Carried full budget and P&L responsibility
Has operated successfully at management board level
Critical Competencies for Success
Creative, able to think out of the box and come up with truly new concepts
Stimulates an environment of out of the box thinking, with positive attitude to nontraditional ways of market approaches
Used to lead multidisciplinary teams. Sets clear objectives and works towards strict deadlines
Decisive, based on involvement of stakeholders
Able to paint the overall picture, but also to bring it back to its operational consequences
Other Personal Characteristics
Engaging, non-hierarchical personality who quickly develops rapport and credibility, both internally and externally
Unassailable integrity and ethics
Long term potential to contribute broadly across our client
Strong communication and persuasion skills; confident, articulate and dynamic
Ability to work with a diverse group of people in a collaborative and consensus driven environment
Extensive network of potentially relevant contact
Interested?
You can apply to this position by using the form below. For more information, please contact Geert Meijer at +31 (0)6 53 83 23 68.
This search procedure has been closed (20-08-2013).
About this headhunter - 227 Media
227 Media is hét bureau in Executive Search, Recruitment en Interim Management voor Media-, Content- en Entertainment-bedrijven. Wij richten ons vooral op executive functies en professionals voor middle management niveau. Wij spreken uw taal en wij begrijpen wat een modern (media)bedrijf nodig heeft in een wereld waar digitaal dominant is.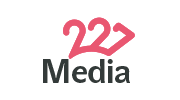 More jobs from 227 Media on Lintberg
227 Media has been active on Lintberg since 2011.