Field

Management

Salary

Salary undisclosed

Location

Netherlands

Employment

Permanent

Headhunter

Van De Groep & Olsthoorn
The organisation
Our client is a leading rental provider of pallets and boxes in fast-moving consumer goods and industrial supply chains across Europe. Via an extensive service center network, customers rent their pallets to store and deliver their brands. By deploying its pooling expertise in recovery and refurbishment, the company provides its customers with pool pallets when and wherever they need them.
The company is a long-standing and leading exponent of circular economy models, promoting recovery and continual re-use of durable standard pallets and boxes in efficient and sustainable pooling systems.
The position
The company's clients are mostly in the food, the retail, the electronics and in the chemical industry. Logistic expertise and knowledge of retail is key for the business, since it strongly depends on successfully managing a pool of pallets which is not under direct control most of the time and very often not even in custody of parties who have contractual obligations towards the company, i.e. retailers, distributors and converters that are the clients of clients. The company has the ambition to continue the growth; in order to achieve these goals, the organization needs to be optimized.
The CEO's primary focus will be on high level relations with retail; furthermore on business development and sales, optimization of the organization, managing the process and enhancing overall efficiency. The COO focusses on Finance, IT and Operations. Together, they lead the pooling business and organization, and they are responsible for developing the company strategy, targeting further growth and development. They create, direct and lead European initiatives, meanwhile developing, supporting and coaching the operating companies. They strive for group alliances with customers and suppliers. They have a reporting line to the Group Board, just like the other companies in the group, and they are part of the Management Board pooling.
The pallet pool services may appear fairly straightforward. However, the pallet flows lead to more than 50.000 customer locations all over Europe, creating massive information flows to control. The company's main asset is to deal with these flows of data and interpretation.
The running of the business requires intense client contact and communications with the transport/warehousing and depots organizations, which require a different approach and management. The CEO needs to be able to understand and steer within these complexities in order to align the pooling services and partners with the client's needs.
Candidate profile
The ideal candidate (he or she) has strong commercial and analytical skills, operational overview and a proven track record in complex (non-standard) logistics services. He or she should have the capacity, the interest and the strong process orientation to be able to understand and deal with the many interactions of pallets in the supply chain from client to distribution to retail and backward.
A master's degree in business administration, econometrics and/or supply chain management is required. Furthermore, the candidate should have a good understanding of logistics acquired through a management position in a logistics company, a logistic management position in a retail or FMCG company. The candidate should have experience, and preferably a network in the retail business, and knowledge of the main developments in this industry. Knowledge of physical distribution and warehousing would be an asset.
He or she can be a solid sparring partner for clients and will be able to convert commercial leads into sales. The candidate will need to function effectively on both the operational level within the company as well as on boardroom and operational levels at client companies. The candidate has a mature personality, an entrepreneurial spirit and a self-starting mentality.
The CEO will have enough business background to be able to take responsibility for the overall financial results.
To summarize, the key elements in this demanding profile are:
master's degree in business administration, econometrics and/or supply chain management;
experience in operational and/or logistics management;
profound knowledge of and a network in retail industry;
business background, able to take responsibility for the overall financial results;
international experience;
understands IT and is strongly data-minded;
strategic/analytical mindset with a "can-do/just-do" mentality;
develops relationships and possesses excellent communication skills;
people manager, decision-maker, team player and still independent;
able to act in a family-owned company;
good command of the English and French languages (verbally and in writing);
willing to travel regularly in Europe.
Conditions
Our client offers an excellent remuneration package.
Interested?
You can apply to this position by using the link below.
This search procedure has been closed (30-11-2016).
About this headhunter - Van de Groep & Olsthoorn
Van de Groep & Olsthoorn zoekt én vindt al sinds 1979 de juiste directeuren, managers en C-level-kandidaten voor posities in de sectoren techniek en industrie. Zowel voor vaste als interim aanstellingen, nationaal en internationaal.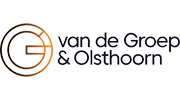 More jobs from Van de Groep & Olsthoorn on Lintberg
Van de Groep & Olsthoorn has been active on Lintberg since 2012.