Field

Marketing

Salary

Max. € 150.000 OTE

Location

Amsterdam

Employment

Permanent

Headhunter

Breukhoven Jung
The organisation

The client represented by Breukhoven Jung is a chemical multinational company which produces semi-finished products for various market segments like Food/Pharma/Industry.
The position
We are confidentially looking for a (Group) Product Manager.
Tasks & responsibilities
Manage the product line(s) from strategic planning to tactical execution within each market segment.
Together with Sales, responsible for development of budget, top line revenue growth, margin optimization and realization of the product line budget and growth strategy.
Determine overall pricing and margin strategy, optimize supply & demand issues, identify key prospects.
Develop in-depth understanding of the marketplace including applications, customer base, competitive landscape, cost drivers, trends and alternative technology.
Evaluate and determine financial objectives and conducts product line reviews to monitor performance.
Conduct ROI analysis of new projects in collaboration with key stakeholders
Review and approve product line needs and ideas submitted relative to value and strategic fit.
Analyze potential partner relationships and contracts.
Lead cross functional teams around product line issues incorporating Operations, Supply & Demand, Planning, Purchasing, Regulatory, Technology, Technical Service, Pricing, Customer Care, Logistics, Legal.
Define implementation strategy, marketing needs and budget.
Executes key marketing activities to ensure the right positioning, messaging and tools are delivered including presentations, collateral material, promotions and trade participation.
Collaborate with Global Marketing on Specialties branding, digital and social media, SEO and SEM, trademark management to ensure Corporate harmonization and efficient utilization of resources available for support.
Candidate profile
The ideal candidate would have strong overall (P&L) product marketing experience as product/category manager and be commercially orientated and have good communication skills. The ideal candidate would need to be practical, hands-on and communicate well with his stakeholders, Sales and Technology and SO&P within the division and with senior management, including his/her direct manager, the Managing Director.
The best background would be one including a technical, higher education. Preferably a university/engineering/ business specialty. Good bilingual skills, with near native English. German would be an asset.
The position is definitely one for a strong leader, a senior product manager who can exercise influence on both a technical as well as on a business level. He/she should be innovative by nature and is motivated to work closely together with the customers and understand the dynamics of the marketplace. He should also ideally have experience within BtB segments like Chemicals/Food/Cosmetics/Oil & Gas.
The ideal candidate is entrepreneurial, willing to travel and is also able to overview the total margin chain. The ideal candidate will be likely between 40 and 50 years of age. The depth of experience would in terms of range start at 10 years product management/sales/market development experience.
The offer
Salary indication for this position is max. € 150.000 OTE.
Interested?
You are invited to apply for this position by using the form below.
This search procedure has been closed (16-01-2020).
About this headhunter - Breukhoven Jung
Wij houden er van om mensen bij elkaar te brengen. Op een manier die duidelijk is voor alle betrokkenen en zoden aan de dijk zet, zonder onnodig lange procedures. Breukhoven Jung heeft een platte organisatiestructuur met zeer korte communicatielijnen.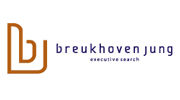 More jobs from Breukhoven Jung on Lintberg
Breukhoven Jung has been active on Lintberg since 2010.