Enterprise Account Executive Sweden
This search procedure has been closed (28-03-2023).
Field

Sales

Salary

Max. € 110.000 + bonus

Location

Stockholm

Employment

Permanent

Headhunter

Nobel Recruitment
The organisation
Being innovative and staying ahead of competition is exactly what this company helps their clients achieve. Their digital analytics platform has already helped 2000+ customers in the world and they are ever growing.
The company went public in Sep. 2021, 750+ employees now and are based in 4 countries in Europe and North America.
In Europe they are split into 3 regions; North, Central and South Europe. Clients vary from SMBs, Commercial to Enterprise. For example Groupon, Honda, Ford, Burger King, eBay. Deal sizes are from 100k ARR and deal cycles are around 6 months – for Enterprise
Main values are: humility, ownership and growth mindset – this is what we make sure everyone represents and those values resonate with people
Their software is constantly being innovated with new features being released , 4.5 out of 5 on G2 and market leaders in their field. They are always on the lookout for top employees to continue the growth. This is where the Swedish Enterprise Account Executive role comes in.
The position
In Sweden there are already a client base, for example Klarna, Spotify & Kahoot. Your role is thought to be 'first boots on the ground' to help accelerate growth in the Nordics. You should be able to work remote and on your own. At least have the mentality to do it as you will be supported by John and a SDR. Your focus clients will be 1500+ FTEs, deal sizes around 100k ARR and 6 months, located in the Nordics.
You should ideally be based in Stockholm, but whole Sweden is a possibility. Top candidates based in London can be considered too.
The current commercial team for the Swedish market consists of Commercial AE, SMB AE and BDR, there is also CSM and Solutions Consultant / Pre-sales, Professional Services supporting the Nordics as well. The team is managed by a great leader, very direct and will tell you how it is, hands on and strong commercially. Good manager you can learn a lot from.
Candidate profile
On the personal part, you should have a growth mindset, good communicator, organized and 'be better salesperson than your manager'. There are also great growth opportunities, Country Manager are up for grabs when the company and the employee is ready.
Experienced needed is 8+ years AE experience, at least 3 being Enterprise, within Data & Analytics software and SaaS . Preferably not from a Large Corporate (but if sold analytics we would still consider), also start up or hyper growth or scale up company.
8+ years in SaaS sales, closing. 3 of them in enterprise
Native Swedish or Danish speaking
Preferably Data & Analytics
Deal size 100k ARR, 6 months cycles towards Nordic clients
Based in Sweden (or willing to relocate)
Growth mindset, organized and great communicator
The offer
Base salary: up to 1.2 million SEK pr. year!!!! (110.000 euro)
Double in bonus (1.2 million SEK pr. year if you hit your targets)
Uncapped Bonus
Internet allowance
Mobile phone allowance
Holidays according to Swedish law
Relocation compensation
Travel to customer site or office will be expensed
Interested?
You can apply for this position by using the link below.
This search procedure has been closed (28-03-2023).
About this headhunter - Nobel Recruitment
At Nobel our job is to help you find that perfect, next step in your career. We have experience on the inside and as the only Dutch agency focussing on SaaS, we're happy to connect you with one of the many befriended companies in our network.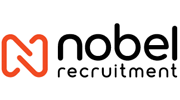 More jobs from Nobel Recruitment on Lintberg
Nobel Recruitment has been active on Lintberg since 2017.