This search procedure has been closed (07-09-2023).
Field

IT

Salary

€ 120.000 - 150.000

Location

Amsterdam

Employment

Permanent

Headhunter

Search X Recruitment
The organisation
Are you ready to dive into the dynamic world of data in one of the most vibrant cities on the planet? We're searching for an exceptional Head of Data to lead a data-driven expedition in the heart of Amsterdam!
That's great and all, but who are they?
They're not just a regular company – they're a squad of data enthusiasts, tech wizards, and creative minds who thrive on turning raw data into gold. With the headquarters nestled in the charming canals of Amsterdam, they're on a mission to make data the compass and innovation the guiding star.
The position
Now we're talking, what do you need me to do?
As the Head of Data, you'll be the captain of the data ship, steering them through uncharted territories and helping us discover hidden insights that propel the business to new heights. You'll be at the forefront of turning data into actionable strategies, while leading a team of talented data wizards who are as passionate about bytes as they are about bites (of stroopwafels, of course!).
Candidate profile
I'm I even qualified to eat stroopwafels?
Yes, you are. In addition, they would like to have someone who is a true master of the data landscape. Although you might need to get your hands dirty on an operational level to "walk the talk", your leaderships skills are more important. Getting the absolute most out of your team members will be crucial for success in the long run.
The offer
What's in it for me?
You'll be joining in our beautiful Amsterdam office within an open and diverse environment. Your salary will be somewhere in the region of €12.500,- per month excluding some great perks, as a company car, gym membership and flexible working hours. What are you waiting for? Apply down below!
Interested?
You can apply for this position by using the link below.
This search procedure has been closed (07-09-2023).
About this headhunter - Search X Recruitment
Wij zijn Search X. Een recruitment agency, gespecialiseerd in het bemiddelen van IT, Sales en Marketing professionals voor vaste vacatures en freelance opdrachten. Van Junior tot Executive level en van Start-up tot Multinational, maar altijd met het uitgangspunt: Kwaliteit boven kwantiteit, eerlijk en oprecht.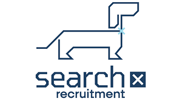 More jobs from Search X Recruitment on Lintberg
Search X Recruitment has been active on Lintberg since 2020.