Group Financial Planning and Analysis Manager
This search procedure has been closed (08-11-2018).
Field

Finance

Salary

€ 120.000 - 150.000 + bonus

Location

Prague

Employment

Permanent

Headhunter

Blooming Hill
The organisation
Our client is a leading specialist in the acquisition, development and management of logistics properties across Europe.
They have offices in nine countries in Europe, staffed by dedicated international teams working closely together and coordinating across borders to provide their customers with the services and facilities they need.
With one of Europe's largest land banks in a wide range of locations from Bucharest to Madrid, they can offer their customers premium options for developing the warehouse facilities they need.
The culture can be described as warm, friendly and collaborative. It is a positive setting and a hardworking atmosphere.
The position
Our client is preparing a solid corporate governance platform for long term growth and investment. As the business grows, a key requirement will be continually improving transparency on the key business drivers, lease by lease, asset by asset, country by country, business line by business line. This will enable more effective and selective investment, and promote best in class reporting, analysis and shareholder interface. As part of this journey, they will move to a single integrated finance and property management system during 2019.
As such, the central finance team now wish to appoint a Group Financial Planning and Analysis Manager (FP&A) to join the CFO, Group Financial Controller and Reporting Manager in the central Prague finance team.
Tasks & responsibilities
Development and production of the full Monthly Performance Pack, including all financial and operational KPIs
Getting more form the existing consolidation tool (Lucanet) in advance of a new integrated finance and property system in 12 months-time
Production of the quarterly Board Packs
Production of the annual Budget packs
Working with Corporate Finance to produce the multi-annual business plan, including asset valuations, driven by estimated rental values, and market by market Yields
Supporting the maintenance of the Sources and Uses model, and cashflow planning and modelling with the Treasury Operations Manager
Supporting the production of statutory reporting, accounts preparation, with the Reporting Manager
Financial Planning and Analysis in support of large scale developments, and acquisitions, and disposals
Ad hoc financial and property analysis as required- both internally, and for strategy presentations and updates with the shareholder
Input to the new systems project, with focus on reporting requirements and design of reporting templates
Drive monthly and quarterly Financial Forecasting and Risk & Opportunity process
Support any future fundraising efforts, debt financing and/or M&A processes
Candidate profile
Very effective communication skills, engaging, strong technical skills, can do attitude
International Cultural sensitivity, persuasive, innovative
Proven experience
Accomplished and proven experience with BI, reporting
Proven experience of Consolidation tools, optimizing, increasing the utilization
Experience of introducing new reporting tools
Highly advanced Excel experience
Ideally good database management experience
Knowledge and experience of financial modelling and IRR / value modelling
Can do attitude, financial business partner, good communicator
Interested?
You can apply to this position by using the form below. For more information please contact Barbara Kuil or Sofie Man at +31 (0)35 201 84 00.
This search procedure has been closed (08-11-2018).
About this headhunter - Blooming Hill
Blooming Hill is een executive search en interim management bureau gespecialiseerd in het bemiddelen van financiële professionals op management- en directieniveau. Onze specifieke "finance" focus in combinatie met onze betrokkenheid, inhoudelijke kennis en ons netwerk zorgt voor een optimale match tussen kandidaat en werkgever.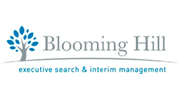 More jobs from Blooming Hill on Lintberg
Blooming Hill has been active on Lintberg since 2011.