Finance Director Netherlands
Field

Finance

Salary

100k - 150k per annum

Location

Rotterdam

Employment

Permanent

Headhunter

Blooming Hill
The organisation
Ecorys is one of the oldest research and consulting companies in Europe. Ecorys is an international company specializing in economic and social development. Ecorys has offices in Belgium, India, the Netherlands, the United Kingdom, Spain, Poland, Russian Federation, Hungary, Bulgaria, Turkey, Hungary and Croatia. Ecorys has a reputation for being a knowledge institute, delivering high quality research based advice, consultancy and training, programme management and implementation, communication and financing, monitoring and evaluation. Ecorys is active in its home countries of the Netherlands and the UK, the EU and its neighboring states and in developing countries.
Ecorys' experts are currently working on projects in more than 110 countries across the world, where they combine their international expertise with local knowledge.
Over the decades ECORYS has been commercially viable and has retained its independence. At present they are fully owned by their employees and by the Foundation The Netherlands Economic Institute. This foundation uses its dividend income to invest in the further development of in-house knowledge in the company.
The position
A professional FD who combines best in class financial management and control with commercial support and customer focus to the business. He/ she has a strong understanding of cash generation in a project based business, including work in progress, long term contracts and proven working capital management and cash forecasting skills. Priority is to get financial control of the contracts (300), creating visibility of the Dutch Business. Handle full year forecast and acts as a strong business partner to the MD.
The Managing Director of Ecorys Nederland has an ambitious agenda to transform and raise the performance of the business, and continue to build on Ecorys's leading role in the global consulting and advisory sector. The business has important and long standing clients, both nationally and internationally, and a dedicated and high quality team of professionals. The role of Finance Director is the key senior management position in support of the Managing Director and together they will represent the board of Ecorys Nederland. NL: Annual Revenues Eur 35m
Tasks & Responsibilities
Reporting to the MD Ecorys Netherlands, with a dotted line to the CFO of Ecorys Group
Supporting the MD as a business partner
Leading a finance team of approx. 5
Familiar with monthly business performance review and management
Production of monthly management accounts, risk overview (visibility of risks & opportunities as well), performance pack, forward orders, half year and annual statutory accounts
Production of weekly cash-flow forecasting
Coordination and management of budget cycle in support of the MD
Coordination and implementation of effective internal control environment, including project tendering, delegations and compliance with the accounting manual
Liaison with external auditors
Input and support of the group Treasury operation and strategy
Candidate profile
Professionally qualified and with a strong commercial customer focus
Energetic, self starter, strong communicator
Not scared to take bold steps
Strong understanding of cash generation in a project based business, including work in progress, long term contracts
Proven working capital management and cash forecasting skills – working with the business
Experience of profit improvement initiatives and actions
Leads by example, not afraid of sleeves rolled up into the detail
Some experience of M&A an advantage
Business partner style, supportive, creative
Commercial attitude
Able to challenge the status quo in a constructive way
Fluent in Dutch and English, spoken and written
Based at Ecorys Rotterdam, living within easy commute of Rotterdam
Interested?
You can apply to this position by using the form below. For more information, please contact Barbara Kuil or Sofie Man at +31 (0)35 20 18 400.
This search procedure has been closed (02-07-2013).
About this headhunter - Blooming Hill
Blooming Hill is een executive search en interim management bureau gespecialiseerd in het bemiddelen van financiële professionals op management- en directieniveau. Onze specifieke "finance" focus in combinatie met onze betrokkenheid, inhoudelijke kennis en ons netwerk zorgt voor een optimale match tussen kandidaat en werkgever.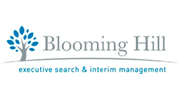 More jobs from Blooming Hill on Lintberg
Blooming Hill has been active on Lintberg since 2011.