This search procedure has been closed (26-10-2012).
Field

Finance

Salary

100k - 150k per annum

Location

Hengelo

Employment

Permanent

Headhunter

Blooming Hill
The organisation
Active in the sectors Aerospace, Defence and Security, Thales Nederland, with 2,000 staff, is the top-provider of high-tech jobs. Product innovation and prompt response to the newest technological possibilities motivate their actions. High-profile examples are radar, communication and command & control systems for naval vessels, and communication, security and payment systems for trade and industry. Thales Nederland is a member of the Thales Group, encompassing 70,000 employees in over 50 countries, which makes it one of Europe's largest electronics firms. Thales is looking for a:
Finance Director Business Unit Naval Systems
Position
The Finance Director of the Business Unit Naval Systems monitors, controls and administers the financial activities of the Business Unit. In that respect, you regularly visit the BU's and ensure proactive contacts with key stakeholders (f.e. BU Directors, the Country Finance Directors and the Business Controllers). Thales has a matrix organisation. It is a complex and challenging environment. You are a strong business partner of the Managing Director of the Business Unit. You will be part of the Management team. It is a very interesting job for a Finance Manager ready to make a step to the position of Finance Director.
Main tasks & responsibilities
Take all the necessary steps to ensure that financial interests are adequately protected and optimized through appropriate management of risks and assets.
Ensure adequate and regular control of Tenders and Programs. You are in charge to prepare & submit bid packs for the Netherlands.
Provide full visibility and transparency to the VP & the Director Finance VP with financial assessments and information to assist in decision making process to meet budget objectives.
Analyse the BU monthly performance, prepare & communicate consequently the monthly scorecard.
Manage the planning and budgeting activities (Long and short term Strategic Business Plan, Forecasts) in order to meet the goals set.
Ensure integrity of all accounting records and methodologies adopted, compliant to the Group Accounting policy.
Give support to international M&A projects.
Education & Personal skills
Relevant and extensive experience in Industrial & Finance Controlling Area
International experience
University degree in Business Economics
A firm personality who is able to communicate on all levels
Strong business partner
Fluent in English & Dutch, French is an advantage
Open, pro-active and transparent
Solid personality with business sense
Prior experience in accounting firm is appreciated
Willing to travel
Salary indication
€100.000 OTE
Interesting?
You can apply to this position by using the form below. For more information, please contact Sofie Man-de Vlam at +31 (0)6 46 29 39 80.
Attention: this is a renewed publication because of a prolonged procedure

If you have already applied, you don't have to respond again
This search procedure has been closed (26-10-2012).
About this headhunter - Blooming Hill
Blooming Hill is een executive search en interim management bureau gespecialiseerd in het bemiddelen van financiële professionals op management- en directieniveau. Onze specifieke "finance" focus in combinatie met onze betrokkenheid, inhoudelijke kennis en ons netwerk zorgt voor een optimale match tussen kandidaat en werkgever.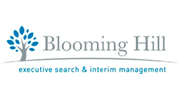 More jobs from Blooming Hill on Lintberg
Blooming Hill has been active on Lintberg since 2011.