Field

Finance

Salary

100k - 150k per annum

Location

Twello

Employment

Permanent

Headhunter

Blooming Hill
Finance Director
Organisation:

Voith GmbH sets standards in the markets energy, oil & gas, paper, raw materials and transportation & automotive. Founded in 1867, Voith GmbH employs almost 40,000 people, generates €5.2 billion in sales, operates in about 50 countries around the world and is today one of the biggest family-owned companies in Europe.
Voith Industrial Services is one of the leading providers of technical services. The group division offers a unique combination of services from a single source, perfectly tailored to individual requirements. Their employees' commitment and skills makes them a preferred partner of manufacturers and suppliers worldwide.
Whether it be maintenance, shutdowns, engineering, machine installations, plant engineering or facility management, Voith Industrial Services ensures a smooth production process and a perfect work environment with its comprehensive range of services.
The Engineering Services division offers contract engineering for the aerospace, rail and road industry as well as for industrial companies.
Voith Railservices B.V. started in September 2006 is part of Voith Industrial Services. There is barely another industry in which reliable and safe maintenance services are as crucial as in the rail industry. This is why it is a focus of the service portfolio. The full service of Voith Railservices package encompasses the maintenance of all components and assemblies. They also plan and operate entire maintenance workshops. The engineering experts at Voith Industrial Services also design components and entire trains. They support customers in all phases from design through production planning to commissioning.
Due to extensive grow and due to the leave of the current Controller, Voith Railservices is looking for a new finance professional who can strengthen the board.
 
Position:

The turnover of Voith Railservices is € 20 mio and has the ambition to double its digits (turnover and people) in five years. The Finance Director will act as a sparring partner for the Managing Director and act as statutory director.
The Finance Director is responsible for Finance, IT, Compliance, Commercial Risk and Purchasing.
The Finance Director has to be both very pragmatic and strategically strong. There are two employees at the administration. This implies that in the beginning it will be a hands-on job (later on it is possible to professionalize and strengthen the finance & accounting department ). At the same time and very critical, the Finance Director has a strong strategic role and will be someone counterbalancing the Managing Director. The Finance Director will contribute to the growth of Railservices. Railservices has interesting potential in Europe, therefore connecting to different people and cultures is also a crucial factor. Leveling with managers of the establishments and creating support is important and has to be his/ hers second nature.
Responsibilities and key factors:
Design and supervision of the management process for planning, monitoring and defining targets for Voith Railservices
Establishing operational and strategic decision-making principles and cost accounting
Preparing monthly reports and financial statements (HGB and IFRS)
Guiding and predictive role in controlling, eg performance analysis
Advisory role (strategic, economic, financial) to management/ board
Observing information, planning, controlling, monitoring, control and coordinate Voith Railservices
Commercial support of the quotation and calculation processes and business development assistance projects
Commercial risk management and compliance management
Assistance with quotation and contract negotiations (contract management), project controlling and proactive debt management
Reconciliation and interpretation of results with the board and the relevant offices in Leeuwarden, Venlo, Nieuwegein and Nova Wies
Profile of the suitable candidate:
A finance degree on academic level
Multiple years of experience in a mid large enterprise, preferably in industrial services, process or engineering industry
Good software knowledge (BI systems, Excel)
Shows initiative, result focus, pro active and independent
Good knowledge of Dutch, English and (preferably) German
Willing to travel
The Finance Director will report to the Managing Director and has a functional line to the CFO of Engineering Services in Germany.
Remuneration:
Max. 120K OTE
Interested?

You can apply to this position by using the form below.
For further information please contact: Barbara Kuil-Jipping on 06-51097158
This search procedure has been closed (02-02-2012).
About this headhunter - Blooming Hill
Blooming Hill is een executive search en interim management bureau gespecialiseerd in het bemiddelen van financiële professionals op management- en directieniveau. Onze specifieke "finance" focus in combinatie met onze betrokkenheid, inhoudelijke kennis en ons netwerk zorgt voor een optimale match tussen kandidaat en werkgever.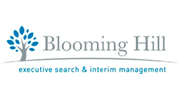 More jobs from Blooming Hill on Lintberg
Blooming Hill has been active on Lintberg since 2011.