Director Corporate & Tax Accounting
Field

Finance

Salary

100k - 150k per annum

Location

Amsterdam

Employment

Permanent

Headhunter

Blooming Hill
The organisation
Our client is one of the world's leading premium lifestyle brands. The Company currently distributes its products in over 65 countries, including North America, Europe, Central and South America and Asia Pacific and operates over 900 retail stores around the world.
The European Finance department is responsible for consolidating, reporting and providing key financial and management information of the international and European businesses. Europe Finance comprises of accounting, financial control, consolidation and reporting, corporate and tax accounting and is based in Amsterdam.
The position
The Director Corporate and Tax Accounting manages a team of 4 direct reports with various specialized backgrounds. You will report to the VP Finance on a broad range of tax and corporate accounting matters and will be responsible for the following outputs/areas:
Tax accounting
Consolidation of the group US tax position on a quarterly basis
Monthly effective tax rate reporting to the US Headquarters
Tracking and reporting of uncertain tax positions
Liaison between Finance and VP Taxation
Translating any tax initiative or development into appropriate tax accounting strategies
Being main contact person for external and internal auditors
Liaise with US tax reporting team on US Tax accounting matters
Responsible for tax accounting guidance to the local Finance teams
Safeguarding compliance with Sox-procedures in the reporting cycle
Corporate accounting
Annual filing of some 15 Dutch financial statements of which 5 are audited
Quarterly Dutch National bank and CBS filings
Enhance & further develop financial reporting process
Exposure within the group
The Director Corporate and Tax Accounting works closely together with the following stakeholders:
Financial reporting team in Amsterdam and 15 local finance teams throughout the world and the Belgium shared service center
US tax team
CFO, VP finance and VP Taxation
Internal and external auditors
Candidate profile
At least eight/nine years of working experience in accounting or audit within an international business environment with a proven affinity for Tax accounting
Experience with Dutch GAAP is a must and US GAAP reporting is a plus
Educated to degree standard in Business Economics, Finance or equivalent
Preferably RA, ACCA or equivalent registered accountant degree
Strong analytical and problem solving skills
Must be able to work in a fast paced environment and adapt to shifting priorities while meeting strict deadlines
Excellent written and verbal communication skills, fluent in English
Strong team player
Strong computer skills: proficiency in Excel
The offer
The salary indication for this position is € 100.000, including bonus. Furthermore, this position offers opportunities for development in the following areas:
Working in a fast paced international business environment in the fashion industry
US GAAP reporting
Broad exposure to all key links in the reporting chain: countries, divisions and US Headquarters.
Interested?
You are requested to respond to this position by using the form below. For more information, please contact Barbara Kuil or Sofie Man at +31 (0)35 201 84 00.
This search procedure has been closed (15-10-2014).
About this headhunter - Blooming Hill
Blooming Hill is een executive search en interim management bureau gespecialiseerd in het bemiddelen van financiële professionals op management- en directieniveau. Onze specifieke "finance" focus in combinatie met onze betrokkenheid, inhoudelijke kennis en ons netwerk zorgt voor een optimale match tussen kandidaat en werkgever.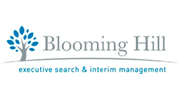 More jobs from Blooming Hill on Lintberg
Blooming Hill has been active on Lintberg since 2011.