This search procedure has been closed (26-01-2015).
Field

Finance

Salary

100k - 150k per annum

Location

Amsterdam

Employment

Permanent

Headhunter

Blooming Hill
The organisation
We are partnering with a large international U.S technology company in search of an EMEA Deputy Controller. This opportunity will be support the Controller EMEA in all aspects of regional monthly reviews, quarterly reporting and analysis of the company's global business process environment. The EMEA Deputy Controller will be tasked in working in tandem with the EMEA FPA team, country FDs and Legal teams.
The position
This position will be based in Amsterdam and report to the Controller EMEA who is also located in Amsterdam. The EMEA Deputy Controller will be collaborating closely with internal and external stakeholder and will be expected to travel a few days a month. Responsibilities will cover afore mentioned aspects as well as having full responsibility in executing and reviewing regional SOX controls and picking up on US GAAP matters.
Tasks & responsibilities
Review monthly country P/L and B/S with the country finance directors and SharedService Center
Analyze monthly and quarterly regional consolidated financials
Manage the preparation of monthly regional review package and perform ad hoc analysis
Coordinate, monitor and manage quarterly reporting information for US HQ
Perform technical accounting analysis and prepare accounting memos, align with tax and treasury on complex accounting and reporting matters
Lead the analysis of accounting and reporting matters for complex transactions (real estate deals, financial and legal reorganizations etc.) under US GAAP in cooperation with the US technical accounting and reporting team
Assist with the gap analysis of US GAAP to Statutory reporting in cooperation with local Finance Directors and external advisors
Oversee tax and regulatory compliance issues
Manage the preparation and prepare analysis for tax and treasury reviews
Monitor and review interim and annual statutory filings
Deploy, maintain and manage the accounting and reporting framework across EMEA
Execute SOX controls and ensure compliance with SOX framework
Drive and oversee regional standardization, harmonization and improvement projects for accounting, reporting (REIT/SWIFT/ECO)
Designing a monthly regional review package in cooperation with FPA Reassess and improving quarterly information flow to the US and PwC
Develop sufficient oversight for statutory filings
Prepare accounting memos
Candidate profile
Qualified Accountant (ACA, ACCA, CPA)
Minimum 8 year relevant experience obtained in Big4 and industry, technology industry knowledge is desired but not essential
Previous experience with group reporting is essential
Exposure to the needs of US GAAP/SEC reporting requirement with strong technical skills and experience is essential
Experience with transfer pricing arrangements, legal and tax reorganization is preferred
Previous experience of working in a matrix reporting environment, ideally with multiple-country experience in EMEA
A strong academic background with demonstrable commercial acumen. Finance or Business degree, ideally a Masters or MBA
Able to challenge the status quo and drive through changes
Experience of working for US multinational organizations and also exposure to entrepreneurial companies experiencing rapid growth
Systems-literate, ideally Oracle ERP (R12) or SAP
Evidence of cultural affinity with fast pace, dynamism, multi-site complexity and accountability, as typified by sector experience in media/agency, technology, telecoms, retail, FMCG, logistics and professional services
Experienced in managing a team and able to influence and persuade senior executives
Salary condition
The salary condition for this position is between € 100.000 - 110.000, with an additional 25% bonus opportunity.
Interested?
You can apply to this position by using the form. For more information, please contact Barbara Kuil-Jipping or Sofie de Man at +31 (0)35 201 84 00.
This search procedure has been closed (26-01-2015).
About this headhunter - Blooming Hill
Blooming Hill is een executive search en interim management bureau gespecialiseerd in het bemiddelen van financiële professionals op management- en directieniveau. Onze specifieke "finance" focus in combinatie met onze betrokkenheid, inhoudelijke kennis en ons netwerk zorgt voor een optimale match tussen kandidaat en werkgever.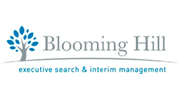 More jobs from Blooming Hill on Lintberg
Blooming Hill has been active on Lintberg since 2011.