Field

Finance

Salary

100k - 150k per annum

Location

Rotterdam Area

Employment

Permanent

Headhunter

Blooming Hill
Organisation
Hertel is a global industrial services company with European roots covering a proud history of over 115 years, setting the standard for industrial construction and maintenance services, worldwide. By offering a complete package of services – from access, insulation, painting and mechanical, to other specialisms including E&I, tracing, and civil works amongst others – customers benefit from the cost and time savings generated by working with a single source partner.
Strategic locations around the world including the Middle East, North West Europe, Eastern Europe, Asia and Australia. With over 13,000 people employees worldwide their headquarter is based in Rotterdam, with regional offices in among others, Abu Dhabi, Recklinghausen, Middlesbrough and Singapore.
Business Control Department
Hertel has experienced a period of strong growth through acquisitions, doubling its revenues and number of employees since 2005 and is now looking to properly consolidate and integrate its current businesses. In 2011 a new Executive Board has been appointed and they have developed a project plan to achieve this. One of the key levers in this so called HEART project is to further professionalize and strengthen the Finance function both on central and regional level within the Group. The creation of a small team of experienced business controllers at headquarters, the Business Control Department, is part of this plan.
Finance organization
At Group level, the finance organization will consist of the following departments
Consolidation, Reporting & Analysis
Tax
Treasury
Internal Audit
Business Control (new)
The tasks and responsibilities of Business Control Department will be those as stated below as part of the profile of the position of Business Controller.
At the regional level the finance organization typically consists of a regional Finance Director with several FTE supporting staff, depending on the size of the regional organization.
Position
The Business Controller deals with opco's worldwide and is responsible for providing consistent and reliable management information to Hertel Group. He/she reports to the Group Controller and works closely with the finance departments of the opco's (worldwide). You will be able to develop this position to the required 'maturity' level as a true business partner and to actively support the 'local' finance teams in their development.
Tasks and responsibilities
Advising the CFO and Group Controller and act as a business partner
Ensuring proper processes for budgeting, forecasting and monthly reporting are in place in the opco's.
Proposing scenario's and actions to optimize and improve Hertels' business performance in general , and on financial KPI's specifically.
Collect and optimize management information to ensure cash will be an enabler to the business
Responsible for project control and implementing project management
Ensuring current best practices are exchanged within the Opco's (worldwide)
Engaging with Regional and local management and finance to ensure they are aligned to the Group policies
Operating in close contact with Group Control and finance of the entities worldwide
Make sure the accounting manual and group procedures (Business Control Framework) a properly followed and assist in the continuous improvement in this area.
Education and personal skills
Relevant finance experience, preferably in a 'project' environment
HBO/University degree
finance experience within an industrial international organization
International/ multinational experience
Being able to ensure positive change in a decentralized organization: can deal with
resistance
Financial management/controlling of projects is a must
Ability for process design, excellent system knowledge, preferably SAP
Willing to travel (10-20%)
Fluent in English and Dutch both oral and written
Strong communication and interpersonal skills
Proactive and self motivated
Being able to design this new role
Ambitious and drive (grow potential for finance positions within Hertel, international)
Strong knowledge of various cultures and international ways of working
Remuneration
€100K OTE + company car.
Interested?
You can apply to this position by using the form below.
This search procedure has been closed (01-06-2012).
About this headhunter - Blooming Hill
Blooming Hill is een executive search en interim management bureau gespecialiseerd in het bemiddelen van financiële professionals op management- en directieniveau. Onze specifieke "finance" focus in combinatie met onze betrokkenheid, inhoudelijke kennis en ons netwerk zorgt voor een optimale match tussen kandidaat en werkgever.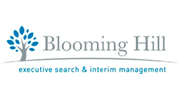 More jobs from Blooming Hill on Lintberg
Blooming Hill has been active on Lintberg since 2011.