This search procedure has been closed (23-02-2023).
Field

IT

Salary

€ 100.000 - 130.000

Location

Amsterdam

Employment

Permanent

Headhunter

Search X Recruitment
The organisation
High performance, low latency, financial markets… You know where this is going right? Yup, trading. Business is booming right now and this company is looking to make the most of it. This is where you come in.
You have my curiosity
The Netherlands has always been at the forefront of financial trading and this firm is looking to keep it that way. This trading company is one of the world's biggest liquidity providers that help maintain and improve the overall transparency and efficiency of the ecosystem.
As a High-Frequency trading firm, it breathes technology. Make no mistake, IT is their core business. Because in such a highly competitive market, performance, speed, and reliability are key. This is where you come in. As a business partner, we give you a unique opportunity to join a leading trading firm with an innovative but open culture at the heart of its business. Do you like thinking out of the box, do you have a creative mind, and do you love working in a high-paced environment, then I am looking for you!
The position
Now you have my attention
Java plays a crucial role within this company and therefore we are looking to hire the best Java Developers to write code, create new designs and maintain existing applications with a focus on low latency, and stability. As a Lead Java Developer, you have even more responsibility and opportunities to show your skills. Strong software engineering skills with Java (preferably 11) as your primary language will also definitely come in handy, though we're mainly focused on the willingness and ability to learn. A deep understanding of Spring is always a good thing as is. If you know your way in Data Structures, Threading, and Algorithms, you will be the perfect match.
The offer
So this trading thing, what does it pay?
Pretty damn well, to be honest. Starting with a base salary between €100.000 and €130.000 gross a year, excluding the secondary benefits. And those secondary benefits, are second to none. From a fully catered lunch every day and flexible working to a royal end-of-year bonus. At this firm they really care about professional and personal development; they do encourage their people to be the best at anything they do by offering the right training. On top of that, they have their own private gym where several health coaches provide the people with the right personal sports programs. You know I said speed was key? What are you waiting for? Click apply!
Interested?
You can apply to this position by using the link below.
This search procedure has been closed (23-02-2023).
About this headhunter - Search X Recruitment
Wij zijn Search X. Een recruitment agency, gespecialiseerd in het bemiddelen van IT, Sales en Marketing professionals voor vaste vacatures en freelance opdrachten. Van Junior tot Executive level en van Start-up tot Multinational, maar altijd met het uitgangspunt: Kwaliteit boven kwantiteit, eerlijk en oprecht.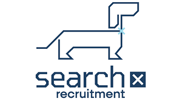 More jobs from Search X Recruitment on Lintberg
Search X Recruitment has been active on Lintberg since 2020.