Operations General Manager
Field

Management

Salary

Salary undisclosed

Location

Al Jubail

Employment

Permanent

Headhunter

Van de Groep & Olsthoorn for Anabeeb Arabian Pipeline & Services
The organisation
Our client ANABEEB, Arabian Pipeline & Services Co Ltd., is located in Jubail (Saudi Arabia). Anabeeb, established in 1983, has become one of the most experienced single-source maintenance and support specialists for leading industrials such as refineries, (petro-) chemical and steel industries, power/desalination plants. Projects can be related to inspection, testing, construction, on-site maintenance, chemical cleaning, catalyst handling, water jetting and industrial vacuuming.
Anabeeb is a joint venture of Al-Osais (Saudi company) and the Dutch concern Mourik.
Anabeeb counts up to 3000 employees mainly from the Far East of which 2500 employees are working in operations. Anabeeb can be characterized as a steady growing company with a strong competitive position in its line of business.
The position
For this client we are currently looking for a Operations General Manager.
Tasks & responsibilities
You will be fully responsible for all operational departments involved in field projects execution. This involves Plant Turn arounds, Manufacturing and Production, On-site Maintenance services, Flare and Chimney Services, Chemical Cleaning Services, Business Development and the affiliates in the Western Region, UAE and Oman. You will directly report to the Corporate General Manager who is also located at the office in Al Jubail.
Several job aspects:
You will be fully P&L responsible for all operational departments, in order to ensure proper control on expenses to meet budgeted turnover and profitability.
Required experience in contact with clients, contracts management and supervision over timely project delivery within budget.
Keeping close communication and coordination with existing clients to ensure their highest satisfaction and develop any potential business opportunity in the market jointly with the sales & marketing team.
Adhering to Anabeeb Safety and Quality Policies, Rules and Regulations, as well clients specific policies.
Monitoring costs, optimize resources and execute projects on time.
Effectively contributing at all stages of the planned operations projects from the bidding activity till the post execution and full completion of the project.
Ensuring effective equipment and resource allocation for all jobs and projects by coordinating with all engaged departments (HR, Supply Chain, Contract Engineering Department, Finance).
Assisting in the development of strategic plans for operational activity.
Candidate profile
We are looking for a "hands-on" General Manager (Bachelor and/ or University degree) with work experience preferably in the oil and gas industries or related sectors. The candidate should be familiar with "shut down and turn around" activities related to plant maintenance projects seen from a contractors point of view and interest.
Other important competences and skills: Strong character, high stress resistance level, diplomatic, teamplayer, commercial and willing to work in a multicultural environment and multinational staff. Fluent English speaker who is willing to live and work in the Middle East.
The offer
Anabeeb is a company well recognized in the Middle East because of its high standards in quality and safety. Primary and secondary working conditions are competitive. Housing will be arranged by the company, leaves are being paid. The position is a permanent one and the company offers a good remuneration package accompanied with an excellent incentive scheme. All specific conditions will be explained in a personal interview.
Interested?
If you are interested in this position please click the link below. For more information please contact the consultants in charge: Bert-Jan de Visser, +31 346 – 87 00 20.
This search procedure has been closed (10-04-2019).
About this headhunter - Van de Groep & Olsthoorn
Van de Groep & Olsthoorn zoekt én vindt al sinds 1979 de juiste directeuren, managers en C-level-kandidaten voor posities in de sectoren techniek en industrie. Zowel voor vaste als interim aanstellingen, nationaal en internationaal.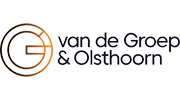 More jobs from Van de Groep & Olsthoorn on Lintberg
Van de Groep & Olsthoorn has been active on Lintberg since 2012.