This search procedure has been closed (10-09-2019).
Field

Finance

Salary

Salary undisclosed

Location

Amsterdam

Employment

Permanent

Headhunter

HAYS
The organisation
Our client is a global pharmaceutical leader and the world's largest generic medicines producer, committed to improving health and increasing access to quality health solutions worldwide. Their employees are at the core of their success, with colleagues in over 80 countries delivering the world's largest medicine cabinet to 200 million people every day. They offer a uniquely diverse portfolio of products and solutions for patients and they've built a promising pipeline centred around their core therapeutic areas. They are continually developing patient-centric solutions and significantly growing both their generic and specialty medicines business through investment in research and development, marketing, business development and innovation. This is how they improve health and enable people to live better, healthier lives.
The position
The finance department is currently going through a transition. As part of this transition a European Accounting team is being established over the course of 2019 to support the local accounting departments of the 30+ European countries. The team will enhance support in the following areas: Financial reporting, internal control and process improvement, tax (transfer pricing, tax accounting, restructurings), systems and people development. The position of Accounting Director, HQ Europe will focus primarily on business understanding, improvement of accounting throughout Europe and take oversight over all accounting activities in 3-4 small/medium sized countries in Europe. Typically, you will be closely working with the European accounting leads in all the countries in Europe, CFOs, Procurement, Legal, HR.
Tasks & responsibilities
Enhance business understanding of various countries in Europe to enhance accounting activities. Have managerial responsibility over all accounting activities in 3-4 small/medium sized countries in Europe which means taking ultimate responsibility of the financial reporting. Perform periodic balance sheet reviews in a number of countries to gain and maintain good understanding of relevant topics/issues. Lead the European USGAAP accounting expert team. Lead the European Accounting forum. Maintain strong relationships with the accounting community in Europe.
Candidate profile
Higher education/academic work level. +/- 10 years of experience in accounting or tax accounting. Strong knowledge of US GAAP (prerequisite). Knowledge about Oracle or SAP is an advantage. Knowledge about the pharmaceutical industry is an advantage. Fluent in English. Open minded to create the best for the organisation. Flexible and able to work in a changing environment. Service oriented to deliver the best support to the countries. Strong focus on improvement opportunities. Strong communication and influencing skills. Want to work in a new (to be) established team. Problem solving skills. Position is based in Amsterdam. Able to travel in Europe when necessary (20-30%).
Interested?
You can apply to this position by using the link below.
This search procedure has been closed (10-09-2019).
About this headhunter - HAYS
Bij Hays geloven we dat de juiste persoon een organisatie kan veranderen. En de juiste baan geeft veel energie en zorgt ervoor dat je elke dag met voldoening naar huis gaat.
Als één van de grootste recruitment specialisten wereldwijd plaatsen wij gekwalificeerde kandidaten in vaste, tijdelijke, interim en contracting jobs. Met zo'n 12.100 mensen wereldwijd, helpen wij mensen te slagen en organisaties te groeien, we creëren kansen en proberen zo levens vooruit te brengen.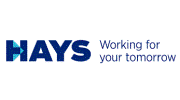 More jobs from HAYS on Lintberg
HAYS has been active on Lintberg since 2008.