Global Knowledge Manager Food
Field

Management

Salary

€ 150.000 - 200.000

Location

Delft (+frequent travel)

Employment

Permanent

Headhunter

Günther + Van Grinsven Executive Search voor IKEA
The organisation
The food arena has changed fundamentally. Food and food culture have become far more important for large parts of society. The things we buy, cook and eat have become clear indicators of who we are- and who we want to be. We know that people don't only want food that tastes good, they want food that makes them feel better and does something more. The IKEA food experience is an essential part of a rewarding customer experience.
Inter IKEA Systems based in The Netherlands and Sweden.
The position
Inter IKEA Systems is looking for a candidate with strong interpersonal skills and high expertise in food, retail and hospitality who is strong and clear on a conceptual level while still open to others opinions. Someone who can constructively challenge the stakeholders in their comfort zone and who can open up doors for development. Someone who can run todays business and plan for tomorrow's. In short; someone who is capable to reposition IKEA Food within the IKEA concept.
The purpose of the position is to manage and lead the Food knowledge area and to give input to the IKEA Concept business unit business plan and to support, deliver and fulfill the relevant One IKEA Concept plan activities.
The aim is to recruit and develop, with a long term and sustainable approach, the competencies in the Food knowledge area enabling high volume change and driving the business toward today's and future needs.
Candidate profile
Strong and proven interest within the food and hospitality area (up to date, ability and motivation to learn about new retail and food concepts)
Planned and implemented successful food concepts
Experience in creating a high performing team required to meet set objectives
Educational background within hospitality industry
Strong verbal and written English language skills
Inter IKEA Systems is located in Helsingborg Sweden and in Delft The Netherlands. One of these wil be the homebase for this position. As it is truly a global position, travelling will take up approximately 100 days per year.
Interested?
You are invited to apply for this position by using the form below.
This search procedure has been closed (09-06-2017).
About this headhunter - Günther + Van Grinsven Executive Search
Günther + van Grinsven Executive Search werkt nationaal en internationaal - voor zowel multinationals als familiebedrijven en private equity owned companies - aan de invulling van key positions op senior management en directieniveau in commercie, finance en general management.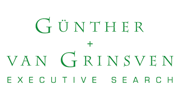 More jobs from Günther + Van Grinsven Executive Search on Lintberg
Günther + Van Grinsven Executive Search has been active on Lintberg since 2016.